Introducing Streamwise D.I.™
– Award winning technology
Driven by our AI-powered platform, Streamwise D.I.™ digitizes wastewater using:
Industrial grade, Integrated Internet of Things (IIoT)
Wireless level sensors
Cameras and devices installed at key locations across the plant.
Data is continually collected and stored in the advanced cloud based Streamwise D.I.™ portal, so operators have full visibility of the treatment process, as well as access to real-time, 24/7 data intelligence and insights.
How Streamwise D.I.™ delivers value
Using Streamwise D.I.™ at your site will lower costs, improve compliance and reduce risk.


Digital & sensor technologies
Digital cameras and onsite sensors are installed across your plant to digitize the wastewater.


IIoT & wireless communication
Industrial grade IoT and wireless technologies connect sensors to collect live data.


AI & big data analytics
Using AI and machine learning boosts all aspects of wastewater plant performance.


Industrial grade edge device
Our powerful industrial grade edge devices deliver an unparalleled way to manage wastewater.


We give you key insights
Easy to interpret data helps you identify ways to optimize plant performance.


Full visibility 24/7
Access data from across your plant, anytime and anywhere.
How Streamwise D.I.™ helps you
With better data and insights, you can make better decisions


Process compliance
Ensures your plant adheres to strict environmental regulations when discharging water from the plant.


Chemical management
Water discharged from your plant is appropriately treated and no excess chemicals are used or discharged.


Asset management
All components of your plant are fully optimized and maintained, avoiding expensive repairs and outages.
Streamwise D.I.™ solutions
As treatment trains vary in size, equipment, chemical use, wastewater type and performance objectives, you can choose the Streamwise D.I.™ solution to best meet your needs.


Streamwise D.I.™ Discovery
---
---
Monitoring platform
Digitize your wastewater to monitor and learn. 


Streamwise D.I.™ Insight
---
---
Learning platform
Gain actionable insights, alarms and reports from your data.


Streamwise D.I.™ Advanced
---
---
Management platform
Data modelling, simulations and predictive analysis, enhanced automation and chemical dosing.
Powerful portal gives you full visibility
Accessing your wastewater real-time plant data is easy through the Streamwise D.I.™ customer portal. Using our powerful industrial grade edge device on onsite sensors, the portal delivers easy to read and secure data.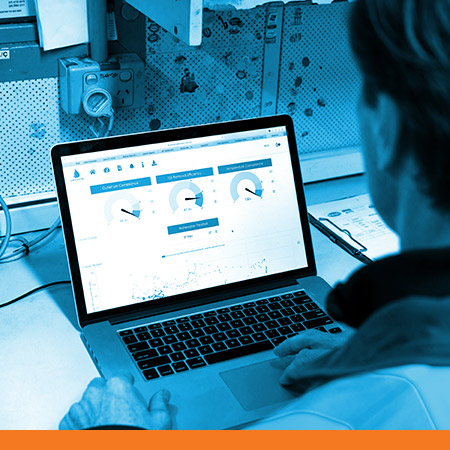 What Streamwise D.I.™ customers say
"Streamwise D.I.™ permits very accurate control of chemical dosing in line with set points while optimizing chemical usage levels through feedback loops."
Customer since 2017
– World's largest food and beverage company
"We are currently in the process of implementing another Streamwise D.I.™ due to the positive results that we observed. I believe that Streamwise D.I.™ would be beneficial for many other industrial applications.
Customer since 2017
– Multinational dairy foods company
"The Streamwise D.I.™ system installed on our DAF has provided a simple yet very effective way to increase our control over compliance and cost."
Customer since 2017
– Australia's largest meat processing company
Get more from Streamwise D.I.™
---
Request demo
Like to see Streamwise D.I.™ in action? Please contact us to arrange a demonstration.
Request information pack
Like to learn more about how Streamwise D.I.™ can save you money? Please contact us for an information pack.
Stay in touch
Like to keep in touch with us? Please sign up for our newsletter.